On the Shelf of the Library
April 7, 2011
The library is a pathway lined with leather bound doorways on each shelf waiting to be opened, with the mind of the reader. The library fills my sense of smell of old moldy pages; the familiar smell of words, as if you can breath in their stories with one breath. The shelves are with with dog eared pages of scary and happy adventures alike.
You open that doorway to another reality. As if you can reach excitement's grasp with one glance, As you read time itself melts away. Everything but your own piece of imagination that you are holding, blends away into nothingness. Loud voices turn to silence, object blur without recognition, as you hungrily read on.
You read day after day not getting your thirst quenched, when you beg for more. this addiction, this hunger will not be satisfied until you find that right doorway, that right book in your itching hands.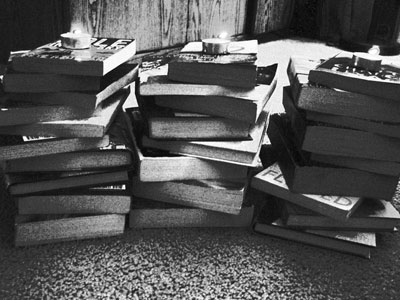 © Alexis R., Clarkdale, AZ