Pennsylvania
MAG
March 25, 2011
The toddler elephant who plays in the skies
looks in my car window.
It sees Mother scrunching her face,
weaving her eyebrows together.

Just the other day
she wished her brows were thicker.
Her fingers intrude the space inside her ears
and do not part until the glass rises and the screaming disappears.

The animal watches as Mother raises her hand,
fingers distorted and says "s'up?"
She is loud and her vowels are drawn out.
I am afraid someone might hear.

Even though we are stopped at the abandoned
Sunoco on the outskirts of Pittsburgh
she knows how to embarrass me
even in this reverberating silence.

We move on our road once more.
Mother complains about the lack of bathrooms
and Richard says, "Arab. A towel head."
He is profoundly wrong and I want to get out.

I need to escape this ignorant air
I have been forced to breathe in
for two vacant years.
They do not know the truth.

Mother does not know
that her brows are meant to be thin,
otherwise she could not knit them together
when Adam says no one needs to pee.

She says I am wrong
when I tell her
the sky is an elephant.
She even renames our route.

Richard was wrong all along.
His ignorance defiles my brain
and has changed Mother for the worst.
The man was Sikh.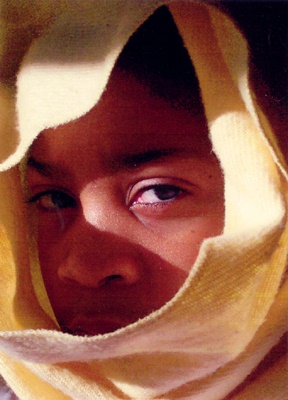 © Nicole C., Eagan, MN