My Heart Grieves
March 29, 2011
Tears stained red from the day my heart bled.
I can't fix this hole that consumes my soul.
So many loved ones I've watched pass away.
It'd be nice to see one finally stay.
Oh how my heart grieves.

There's one in particular I miss with all my heart.
To describe the loss I wouldn't know where to start.
Your love flows over me everyday.
I feel your presence in every way.
I can still picture that smile that claimed your face.
I can still imagine your beauty and your grace.
For you my heart grieves.

If you only understood my greatest regret.
It's a memory I cannot forget.
I wish I could've had one last good-bye.
Then each night I wouldn't have to cry.
Why does my heart still grieve?

There is one thing that keeps me surviving.
Looking at the stars and seeing you shining.
It's beautiful to think you're now dancing around.
Up on your toes without making a sound.
I can't wait to see you walk in the clouds.
I know you'll be the one to welcome me into God's house.
How special to think you're up there with Jesus.
The only One who sees the love between us.
Please stop my heart from grieving.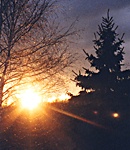 © Christy S., Germantown, NY