Shine
March 29, 2011
Shine
Some Stardust and emeralds of green-blue
Dusky in the night like shadowy clouds over a haunted sun
But this dims them none
They shine through, defying darkness, those
Dewdrops of your eyes
Make mine want to shine
But mine are only like a glazed moon in an empty sky
Pretty in their lighter watercolors
But a clear sky, not star sprinkled and deep like yours
An outer space I could get lost in forever with no fear
Even when I'd fly through the cold, without gravity to ground me
As long as you were held there with me
For who needs gravity when the electricity of your smile
Pulls me off my feet anyway?
Who needs warmth,
When my love burns inside, warmer then the summer's air?
A fire blazing in my heart, tingling through my toes and sparking out my smile
Burned bright, lit by your eyes
Your presence the match I cannot help but light
And if you asked me to fill my heart for you with sand
I could not, because the lust is depthless
But I would toil and try anyway, though I doubt you'd lift a speck for me
For that glass wall holds us apart
To see through, you shining for me like light shines through a greenhouse for arching vines
But I will never beam light back
We speak; your words and voice play a favorite melody
Fumbling and over-played
But perfect to my ears
But my talk doesn't hit your soul or play for you like an I-pod
It only bounces off the glass
When you glance my way, melt me like an over-burned candle at your touch and call
It's weighed less in your mind than a feather, means less then jumbled words
The same ones that seem to flow from my mouth to you
But it's ok, that you are my secret locked pearl in the box hidden inside
And it's ok that you should never know
Never search for the jewels your eyes, are in the mines of my heart
And it's ok, because I have even more walls then you,
Committed to others in walls of mortar and brick
And I don't mind, because I feel for you, but it won't hurt, or shatter precious glass
No knifes to the soul, or wounds to the head
It's enough to see you and blossom under your stare,
A flower ready to bloom under sun's radiant glare
And yes, it saddens me that sometimes we are two strings attached
To different balloons, determined to whisk along on different paths with the wind
But deep inside I'm sure our balloons will cross again
Because such lust in me must surely be like a magnet permanently attached to you
And when I do see you on the winds way
The luster may be gone from your diamonds
Faded and lifeless song in your voice
Down-turned and lost those lips mine never got to meet
But I'd know all you'd need was a sparkling shower
To dig down underneath
Because your star-specked eyes
Still
Shine.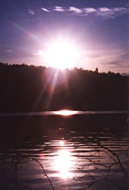 © Laurie T., Hopkinton, MA