The Torrent of Life
March 25, 2011
I stare at a blank piece of paper
And I don't know where to begin
I don't know which scab to rip off
Which emotions will escape my hallow soul?
Either way it will overwhelm our every being

It all started when I was young
She was my best friend
They both were
We would play harmoniously
Like the little tikes we were

As we grew older
But were still young and new to the world
As little tikes
We were faced with problems
Too advanced to understand

My hardest decisions where what color to paint
Her's were more complex
They distort my mind today
They are too adult
Nobody should ever have to make

As we grew big and strong
She grew blind and her soft baby hair back from it's roots
But barely an inch taller after eight
We had to learn to walk forward
She had to do the same
In a dark room
On a bright sunny day

Then she tried sports
Basketball
Dance classes
I was afraid of the ball
She couldn't see it

Then one day they gave her a miracle diagnosis
Free from the torrent of her life
Free from the pain
Free to dance
Free to be healthy


She frolicked through life
Like I danced through mine
She skipped and leaped
And I came along
And held her hand

She would hit us with her cane
That was her guiding eyes
We would laugh
She would join in
And we would wait for the bus outside my house

As we grew more and more
Sprouting like a magic beanstalk
She stayed her small self
Her mind grew for it
A scholar stuck in the body of an eight-year-old

At times we resented her
We were supposed to be there for her
We were supposed to be her best friend
She never knew
She never got a hint
We just turned a bling shoulder

Then we got faced with the most horrific moment of our lives
Middle school
She went in like the queen of the world
Carrying her brail machine
Ready to face all of life's problems

She got faced with one we didn't expect
The torrent trust passed tenaciously
Into her body
Like a sneaky cat
And came in the form of pain

She was never free of it
It was always there
While I was out being a freak
She was in the hospital
And I was devastated




She was strong
Not strong enough
And it overcame her one day
One bright memorial day
The day her spirit was risen from the earth
The day I lost my best friend

She left a sunny day
We mourned on a rainy one
We cried with the sky
And we said goodbye
That glum, glum day.

When you loose a friend
And they leave you
Abrupt
You have an appreciation for life
And you want to make the most of it

After her life left my arms
And I never heard her perky voice again
My life went to ruins
My heart fell to pieces
My spirit died

I staged a smile
A laugh
I acted the part
So no body could help
But that was all I needed

Look at the world around
Next time you are sad
And say "I am ok"
"There is someone out there worse off then me"
Then help them out

Life is short
Sometimes too short
Just watch for the call from god
Listen for the ring of the old church bells
Because you never know when it is time
To say goodbye.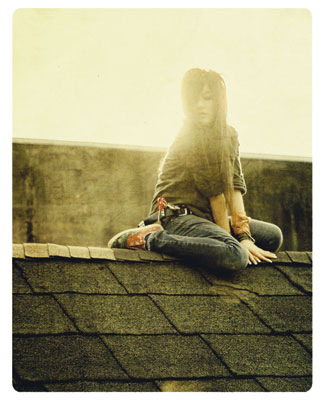 © Hailey J., Lake Oswego, OR