Grandfather
March 24, 2011
The disease has spread through his body like wildfire.
Death lingers in the air.
I listen to his breaths getting shorter, raspier.
He slowly fades away like the morning mist.
I stroke his limp hand, squeezing it slightly.
My heart is drenched in sadness.
But this loss doesn't turn our days dark.
The loss of my grandfather unifies my family as a whole.
Our love is now stronger than ever.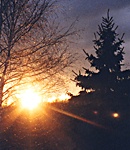 © Christy S., Germantown, NY