Souvenir
March 29, 2011
My love for you is great.
When you pass me by,
When you glance at me,
A million little butterflies jump through my heart.
I can never stop thinking about you.
And when you smile at me,
It gives me the best feeling in the world,
Because then I know,
I have crossed your mind.
My love for you is a promise,
A souvenir.
Once given,
It's never forgotten,
But I will never let you disappear.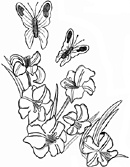 © Leah-Marie D., Peoria, AZ