...She can feel it all
March 23, 2011
If she had any chance at all to be your's it's gone.
Her heart has been ripped into pieces, stepped on, and alone.
She drops to her knees 'cause even the thought of you not being there kills her.
To your remarkable sense of humor, to your sweet tender care, to the little bit of affection you showed her..
..she fell in love..
The amazing spark of when you said hello to the agony and pain of when you said goodbye.
The was your hand fit perfect to hers.
The way your palm laid across her thigh.
She felt warm and protected around you.
She trusted and loved you, until the moment you said goodbye..
then her world just fell
..she had felt it all.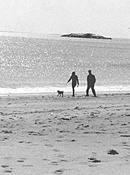 © Megan S., Marblehead, MA