Night
March 22, 2011
It was as dark as night in the town of Sighet,
In the Synagogue I wept, Moishe the Beadle I met.
He asked why I cried, then he asked why I prayed,
At a loss for words I left my answer delayed.
We studied the Zohar every evening for days,
Until the Hungarians came, taking foreign Jews away.
It was as dark as night.
Days turned to months, we did what we could to take care,
'Til the day I saw Moishe outside the house of prayer.
Tears streaked his face, as he explained his condition,
Jews digging their own graves, babies used like clay pigeons.
It was as dark as night.
Moishe tried to tell us to flee for our lives,
Not one soul believed him, to Sighet it was lies.
Passover came, hope was put to the test,
When the Synagogues closed, when yellow stars pierced our chests.
It was as dark as night.
After weeks in the ghettoes, we didn't know where to go,
But we traveled until we reached Auschwitz - Birkenau.
I heard, "Men to the left! Women to the right!"
In that split second, I left my mother's side.
It was as dark as night.
We washed, we were selected, all I wanted was to be free,
We were identified, I was now known as A-7713.
The work wasn't hard, we counted bolts on the floor,
I was keeping up strength 'til I was spotted through the door.
It was as dark as night.
Our Kapo had seen me inside when I should've been out,
After twenty five whippings, I fainted and lost count.
I witnessed the hanging of one of God's sons,
Who hung there long after the others were gone.
It was as dark as night.
I no longer believed that God did exist,
What kind of merciful God would put us through this?
Many weeks later, we evacuated camp,
After roll call in the morning we all just ran.
It was as dark as night.
We ran for hours, from sun up to sun down,
Finally, we rested on the snow laden ground.
We piled into cattle cars, with the injured and sick,
We then traveled to a place called Gleiwitz.
It was as dark as night.
Days went by; we had no soup and no bread,
Then one morning I woke and my father lay dead.
We were in Buchenwald now, we stayed until spring,
Then the Americans came and we knew we were free.
It was as dark as night.
I saw camp explode; I saw the Germans' defeat,
I thought not of my family, but of my hunger to eat.
The next day, I saw lying; a corpse on his bed,
To this day, his face will not leave my head.
It was as dark as night.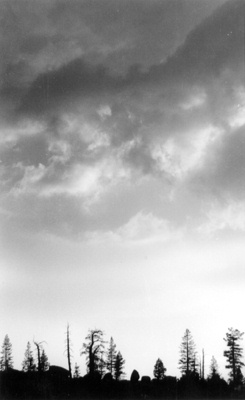 © Steve S., Marblehead, MA