Today's Yesterday's Tomorrow
March 21, 2011
Today-
Is a blissful day
Yet an odd one that lays within Yesterdays events, flat ironing Tomorrows expense.
The I small child John Rego, was given a chance to step on communist soil
Only to be fanned away by the six 'o clock tide on 'Isla de la Juventúd!'

Except, I was on a raft 89 miles from the Florida Keys departing from La Ciudad de la Habana

In English, Hell.
Yesterday-
Landing safely on the shores of the southernmost point of continental U.S.A., we waited cold, hungry
And lonely… without a SINGLE clue of what will happen next…
Yesterday's Tomorrow-
I was left without love, without a family,
Just a father, a mother,
And a switch, labeled Hope.

Hiding from my life is not an enjoyable experience.
You play, but in fear; why bother even trying when you're stuck in a small soft 'Cúna' with chains on
Your Arms and Legs, and maybe a little mouse wheel if you were lucky.
Yesterday's After Tomorrow-
September 11, 2001.
War has changed.
It's no longer about nations, ideologies or ethnicity.
It's an endless series of proxy battles, fought by mercenaries and machines.
War, and its consumption of life, has become a well-oiled machine.
War has changed.
The World Stood Still.
Our Nation Froze.
Our 'Hope' pummeled to the ground.

My father would always tell me as child that he; "Always thought of me as a son.

But... respected me, as a soldier... and as a man."
The poor man taught me well, but died too young…
During our money crisis in '07, father and I would exchange in conversations about
War, The Economy, Cuba, Heaven or Hell, ALL WOULD BE SPOKEN OF!
"America will descend into chaos... It'll be the Wild West all over again. No law, no order. Fire will spread across the world. The people will fight... and through battle, they will know the fullness of life."

My Father would say.
I stood up and responded.
"As long as we're a family and focus on what's right, WE as a team, No, an alliance, can continue with our dreams and forget about the world. It doesn't need us now, but we need it… and by god I will stand up as one to rebel against the order! To protect the ones I love because THAT'S WHAT REGOS' DO!"
You know what he had to say about that? ...
"Pass me the tea."
You can tell he loved to listen.
But even though he was the shifty one,
He was my Father, nonetheless.
Oh how I loved him so…
Yesterday Today-
I'm finished with middle school, and only beginning with summer.
I made a puzzle.
But it seems that every time I'm near perfection, the last piece goes missing.
Maybe... Some pieces are better off missing.
On the hospital bed of my father…
I told him everything…
I am a level 83 Virgin…
Who STILL plays with his action figures, and games, and his books, and his stuffed animals, and yet STILL become the son you always wanted…
I gave him one last kiss on the cheek… and walk into darkness…

Today-
I ask myself... What is a man?
A Cesspit of hatred and lies. We fight for them, then, we die for their sins!
I ask myself… What is an angel?
The name of a popular TV spin off of Buffy the Vampire Slayer?
I ask everyone… What is Love?
Is it nature's way of tricking people into reproducing?
Or is there more beyond that puzzle?
Only my father knew…
I don't think we'll be seeing him anytime soon…
But… I think I discovered it…
The last piece of that puzzle was one selfishly thrown out, to then be picked up…
And complete the picture… It's us, I'm sure you can see it…
All that's left now... is to tell the story that goes along with it…
Because Today's Yesterday's Tomorrow will matter NO much after
I give my soul~
To You!
To You!
And to You!
Because THAT my friends, is WHAT REGO'S DO!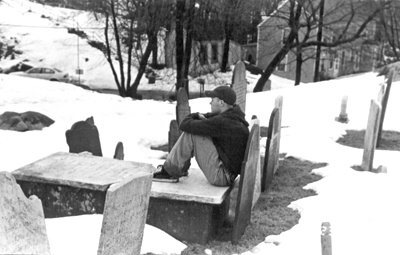 © Matt B., Marblehead, MA