Worst Fears
March 16, 2011
I wake to ringing phone in the dead of night.
I run to answer, wondering why no one else did.
A cold voice tells me horrible new, soul shattering.
My family was killed, I'm all alone….
I sit and sob, falling apart.
With flash I'm out in the rain,
In a cemetery, where their funeral is
It's only me and the priest, he leaves me there alone
Someone drives up, but it's not someone I know
As I sit crying, a woman comes and injects my arm
The world fades into darkness, then somewhere new
I'm sitting in school, surrounded by my friends
They're laughing and having fun, I try to join in
But I'm invisible, I'm a ghost.
I look around, it's the high school
There is a poster on suicide on the wall
It says there is a vigil for a girl who killed herself
A girl who killed herself 3 years ago
For me.
There is final flash, I'm walking down a street
It's late at night, music blaring in my headphones
I sing along, not seeing hidden dangers
A van pulls up and something happens
I black out again, when a buzzing starts.
I jolt away, sweating
Taking a deep breath, I realize it was a dream
I lie back and sleep, frightened I'll return to my fears.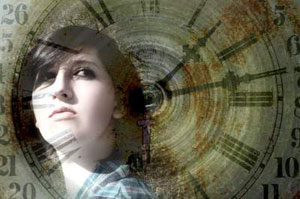 © Ryan K.