Choices
March 18, 2011
A tired man wanders through his thoughts,
Like a young boy stumbling along with only
his shadow trailing behind him through the woods.

Being attacked from two sides at once,
he looks for a solution that will end this,
before the glass rose that held them together
drops from the window it was placed upon.

He knows he has to let one blossom,
and the other he has to let die,
Both advisories knowing nothing about each other.

The man desperately pleads to keep it this way
for fear of war.
Either way he knows it will end,
leaving a stem without a flower,
not knowing what the next day will bring.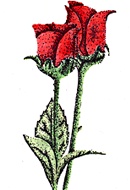 © Sarah M., Phoenix, AZ