Seasons of Music
March 15, 2011
She's languishing in the shade
Head back, hair down,
Escaping the shimmering heat.
She smiles as the forest wraps her in its arms
And the trees strum their branches in slow songs of peaceful bliss.

She's leaping through the leaves that litter the ground:
Dancing, spinning, laughing.
The forest frolics around her, swirling the leaves into gentle cyclones
Until they clothe her in a Technicolor coat,
And the sounds of quick, animated notes come from the trees
As they pluck their red and gold branches in ecstatic staccato.

She's curled up in a mass of gnarled roots;
Tears flow and drip from her cheeks as she transforms into a gurgling stream.
The forest storms around her in rage and anguish
And the trees crash their bare, naked branches in screaming refrain.

She's wandering after her own imagination
Walking where she will.
Her feet have traveled to the beautiful glen,
And the forest's cool, soothing irresistibility is pulling her down into the grass.
So she lays there in the morning dew, whole within herself,
As the trees play the sparkling anthem of the content
With their branch-string guitars.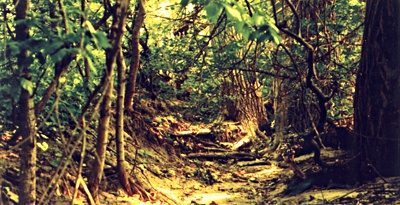 © Dan B., Papillion, NE