Remember
March 16, 2011
Remember that time,

The moon it was full,

It lit up the sky,

I imagined the stars dancing,

I had so many butterflies,

You walked me out,

Into the cold November night,

My car was white and your eyes blue,

Our eyes met and the rest was up to you,

We kissed till we had to part,

You had me pinned against my car,

We were falling in love remember,

Remember our very first kiss,

Back in your woods,

It's so bittersweet now that you're gone,

It was October,

I had on your camo jacket,

We were snipe hunting,

Yeah we can call it that,

It was cold and rainy,

We were sitting there waiting,

"What would you do if I kissed you?"

"I don't know" and laughs,

I laugh too much,

You know that you even asked me not to,

But that's now it wasn't then,

You started to kiss me and that was the beginning,

"Maybe just one more time"

"One more"

We kiss then go rushing off to scare them,

Remember.

Remember that time,

The Halloween party,

I was dressed as an ugly dead bride,

It made me want to cry,

Because you were coming,

I wanted to look better,

We went to pick up Paige,

Just me and you,

You said I still looked pretty,

That meant a lot even though I didn't believe you,

Then the egg fight,

And our kiss in the road,

Bittersweet memories,

Now the tears fill my eyes,

But I want you to remember just a little bit more,

I remember a time on my porch,

We kissed forever and just didn't want to let go,

Later that night you told me that you wanted to tell me you loved me then,

I didn't know what to think so I just said oh,

That's all I remember,

But every time I hear that song "then" by Brad P.,

It reminds me of that,

I like songs and relate them to life too much,

But the song Crazier by Taylor Swift,

Just listen to it,

From me to you,

Now carrying on,

Remember that time in my bedroom,

We watched a movie,

I can't remember the name,

You whispered,

"I think I love you"

I sat there for a minute didn't know what to do,

But as soon as I realized it,

I said "I think I love you too",

That night when you left I didn't say I love you and neither did you,

But after that we did,

Later on after breakups and what not,
You didn't believe that it was true,
It was and as it still is,
Why is it so hard to get over you?
Anyway just a few more things,
Remember when,
You made out with that girl at the movies,
I was so upset,
Wow I hated the thought of you with someone else,
And still do,
It tears me inside out,
I said mean things,
And I meant them,
But then everything got better,
It seems like it always does with me and you,
But for how long?
The thing that broke my heart the most is this,
You texted me on my birthday,
In your bed at your dads,
It was recent,
So I won't remind you,
But when you said you had to end this I broke out into tears,
We got better soon after,
But love or lust became the question,
Maybe it's both,
Love for me,
Lust for you,
This breaks my heart,
I feel like I can't live without you,
I have before so I suppose I can again,
But it hurts so bad at the moment,
I love you so,
And want you to know,
Boy you were my first love,
I made stupid mistakes,
Which lead to guilt, hurt, and pain,
But if a lesson is learned,
It's a price that's worth paid.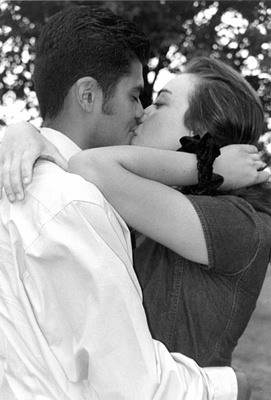 © Yaniris M., Boston, MA