Pardon the Disillusionment
February 22, 2011
My apologies. How silly of me.
What a childish thought.
Forgive me.
But you see, for a moment there,
I forgot that you were human.

Not that I ever saw you as
a platypus or bowl of pea soup
(although I'm sure those are
perfectly fine things to be).
But you see, I was enamored.
You enthralled me.

Perhaps it was the way you noticed
me in my seclusion
and knew I needed a friend—
a fact I refused to confront.
No one was surprised when
we became inseparable.
But you see, it was more than friendship.
You embodied everything I wanted to be.

That was a delicate time
and you were my hero.

But alas, the starry-eyed child
whose heart glowed with admiration
(and just a touch of envy),
every time your life touched another's
has grown up.
My blissful time in the rye field is over.
I came to terms with that
fact long ago.
But you see, I'm still adjusting
to life beneath the cliff.

I've seen others fall before.
A god tumbling from the heavens,
breaching the atmosphere,
divinity melting into flesh and bone—
not an unusual occurrence
here beneath the cliff.
But you see, I didn't think you
would be one of them. Silly me.

Please don't think I'm blaming you;
the fault is all my own.
I forgot that you were human.
You never were a god,
that's just how you looked
from the rye field.
Forgive my aggravation;
I was out of line.
But you see, I'm frightened.
You fell, now who will follow?

You'll always be my hero;
that will never change.
The buttery glow of admiration
has just faded a bit.

But the envy has dissolved
completely.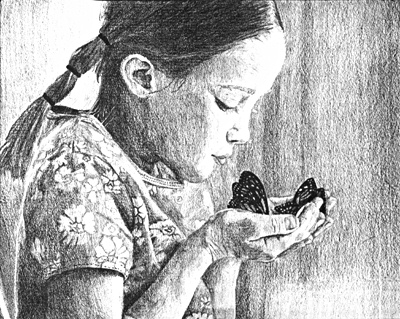 © Alina L., Holland Patent, NY