Dream
March 9, 2011
They're close now
A wall of tangled limbs and cataract eyes,
Gaping mouths and grasping fingers.
A mindless machine of flesh and bone,
Gears grinding and churning ceaselessly, tirelessly onwards.
Inevitably.
I can smell them, cloying and thick, like incense choking the air
I can see them, their patchwork skin
Mottled flesh, glistening bone and throbbing red muscle
A tapestry from hell.
I run to my sanctuary.

Sprinting inside, I slam the door behind me,
Taking in familiar sights and smells.
Home, there's no place like home.
Outside they howl their frustrations to the sky
A choir raising its voice in prayer to an unholy god,
Beseeching me to stay.
To become a discipline of the new faith,
And join them in the perverse promise of everlasting life.

I hear them shuffling towards the house,
A congregation assembling for an unhallowed mass
To drink the blood and eat the flesh,
To become whole.
I am their salvation.
I am their hope.
I barricade the door.
There's no place like home.

I step further into the darkness of the house,
And find her in my bedroom, gazing out the window.
A priestess at the pulpit, preaching to her followers.
"Mom."
Relief rushes through me like a flood.
She's here.
She can protect me.
Nothing bad can happen anymore.
I'm safe.
"Mom, I'm scared."
I feel very young,
Like when I would crawl into her bed after a nightmare.
Where she would hold me tight and whisper,
It was just a dream.
Everything will be okay.
No one can hurt you.
I won't let them.
There's no such thing as monsters.

You turn to me,
Eyes soulless and dark.
Black suns in a dead sky.
You raise your arms
And I slip into your cold embrace, burying my face in your shoulder.
Your lips graze my cheek.
There's no place like home.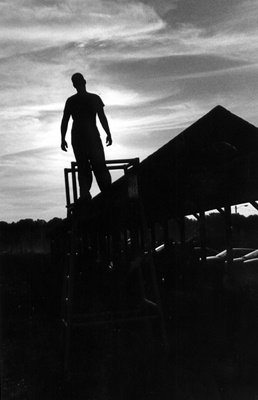 © Brianna L., Marblehead, MA