Tug-o-War
March 9, 2011
The last time I felt whole. June.
The last time I didn't feel numb? I can't remember.
The last time. How final does the sound?
Too final.
Too final to comprehend, too true to accept.
I can't accept the catastrophic turn of events I'm held responsible for.
The two of us.
How it should have been, but how I didn't let it become.
I didn't let us become.
Become what? I don't know.
Now the memory of that night, the final night, haunts me like the distant feeling of a migraine.
The feeling all too close, yet too far away. A teasing game if you will.
You looking at me as if I was the only person you've ever seen. Me looking at you as if you were the only star in my vastly dark sky. I put out your light, and my sky became dark once more.
By pushing you away I found myself in a completely different set of arms. The feeling of those arms are comforting, but they don't completely light up my sky.
A distant glow.
My sky partially lit, and darkened with the memory of you.
When I look at him I see you.
When I look at you I see him.
A carnival mirror distorted and stretched.
I'm killing the three of us.
We are the car waiting to get demolished in the crash.
We are the sinking ship.
We are the violent game of Tug-o-war.
I'm the center, half of me for one half of me for the other.
Constant pulling and straining on my limbs causing the tear in my heart to rip completely like a wet piece of paper.
Here, a piece for each of you.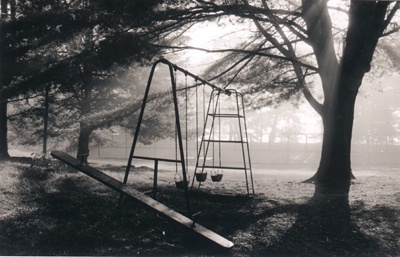 © Steve S., Marblehead, MA