The Optimist
March 9, 2011
My skin is cold but my head is warm,
Let the chilled wind blow as I approach my storm.
Take each step while my perceptions are torn.
I will open my eyes, my thoughts reborn.
Look back down my path and my eyes will burn
But I continue forward with the need to learn.
And with each step I approach my goal
No fear, no greed, no pain to bleed.
I give to this world my everything
And will be left only with my mind and my soul.
I will press on while this cold wind blows
It bites into my enduring flesh,
Penetrating my useless clothes.
Useless because when the air is destined to shift,
This external appearance will bring my storm no lift.
But I digress, and with each step I groan
Near the eye of the storm I am feeling alone
But I know the decision is now my own
And I grin, disregarding this negative tone.
So I justify a smile
Immediately the strength inside my body has grown
I now have direction,
But I am no longer destined to roam.
My joy will bring me forward after my limbs harbor frost,
Others look upon my blizzard and assume I am lost.
Although I'm not sure what I will see
What, after this life, will become of me,
I do have a feeling, it is what I love to be.
I am the smile that every sad heart will wear proudly.

Depressed by the restrictions and memories of their own storms,
Oppressed by the hate that will not let them become warm,
Discouraged by those who claim them stupid or deem them deformed,
I encourage you now to relinquish this scorn.
Open your eyes, your emotions and mind,
See a renewed love for your life and within it you'll find
Your happiness awaits you, release yourself from these searing binds
Do not hold back, leave your hatred behind
You are now an optimist
And you, like me, reach to help another
With your beautiful smile you cannot resist but be kind
You will become the joy of a person
A person like you, who used to be blind
We will bring our strength to those who desperately need
The chance to be happy, and for their minds to be freed
So give me your hand, we'll give it a try
With optimism in sight-
We'll be able to fly.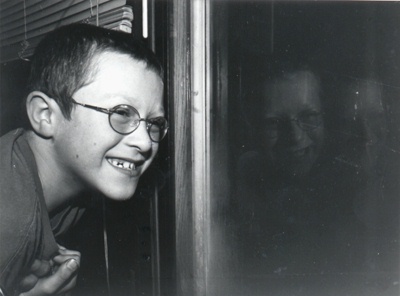 © Amanda McDermott, Sheds, NY