The Power of One
March 8, 2011
Lock me in a room of paint and blank walls.
Let the strokes play my soul
What more than a warm summers night.
The wind lures me
with the thoughts of wonder.
The only restriction is myself.
Start with anger,
splatter my tortured conscience.
Let the paint flow in any direction,
it follows the path I allow
The gentle ecstasy defines the stream ,
As it settles into a rhythm,
no pattern can complete.
No interruption can become unbroken
to surrender the emphasis.
Keep the key hidden from the eyes,
the blind have the best view.
Play the keys in tune with my heart,
Learn the notes of the feelings for the next ballad.
This is all in tune, dance with the brush.
Fool the colors into your emotions, make it what you desire.
Raise the octave, lower the outside voices.
Press the intensity of the power you hold,
Set it free when the paint has dried away.
The piece is a master in itself,
Raw and real. Beautiful and disastrous.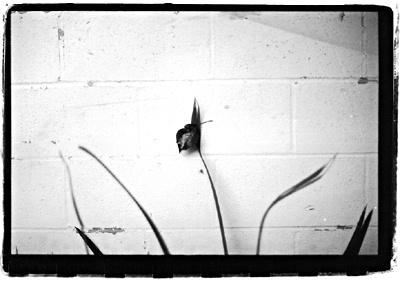 © Rebecca W., W. Hollywood, CA