Collage Poem
March 11, 2011
I have an I heart question mark

written on the back of my hand.

I don't know what it is I feel when I'm around you.

Confusing.

You are like a

Pu

z

zl

e to

me.

I'm pretty sure you like me, too.

Who makes you feel the way

that I make you feel?

I like how you

make me feel.

Getting to know you,

getting to know all about you.

Getting to like you,

getting to hope you like me.

You're my dirty little secret.

On the phone at night,

sending all my love through the wire.

Because the night was made for lovers.

Every little thing that you have

said and done

feels like it's deep within me.

It's like how one minute you will hold the door

and the next

run some old woman over with a shopping cart;

the same one you drive me around in at the Waterfront.

You've got a piece of me;

and honestly,

my life would suck without you.




Quotes from songs by:

Dido, Taylor Swift, Oscar Hammerstein, Journey, Backstreet Boys, Kelly Clarkson, All American Rejects.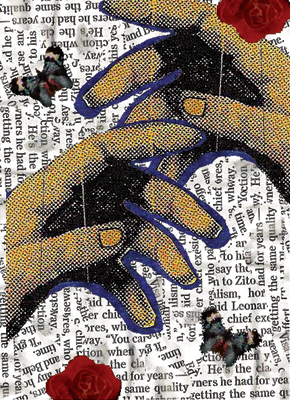 © Christine S., Arlington, VA