Is It Just Me?
March 5, 2011
Or are these words just like beautiful sunsets. And at every moment they seem to be running across my head. Trickling into astonishment. For, the wolves are coming out to eat tonight. Heaven?

To my behold, creeping. Seeking – be not whom thy cries for love, but whom that wishes for her to swift thy heart away? In the daylight, the noises are breathing in the choir. And they conspire. When the fire goes out, so does the light we have been traveling.

In the day, I thought of you, and when the sky turned gray,
I sought upon the sniffs of dawn, and to my thoughts' dismay,
What once I thought was fairy tale, had come to life our day,
But once was but a story in a poem in a play.

Fiction. The likes of something that was not put into our hands. And it's pulling you, to me, away from my world, but into the ones that surround us. Not losing the fates in our freedom calling, face us. Yes we shout your name. And yes we won the game.

Against the world. Just the way we fit our lives into the counterfeit mortals around us. One second their faces are dancing and the next they have doused the candlewick to its wit's end. What a sad day gave us lee-way, and now we can smile something golden again.

Lives are lost in midair. But we can regain them, and you didn't forget me, even though you lost me in the woods. And when Stone Dragon lit his purple crown, we turned upside down, and fell into what we found was happiness. How tricky is that little one, that just begun, to make my eyes shine brighter.


Trigger, don't pull that on me right now.
This day might be potent but our lips are forming how?
And when everything has fallen and I'm being thrown away,
There's this thing in you that picks me up and gives me what to say.

For once was gone, into our song,
And what we have right here,
The fists that brought our terrible wrongs
Are withering down with dear,
Into the sea, it's you and me,
And through our days we go,
I won't give up and you will see
How I can play the show.

And I can't give up being just yet.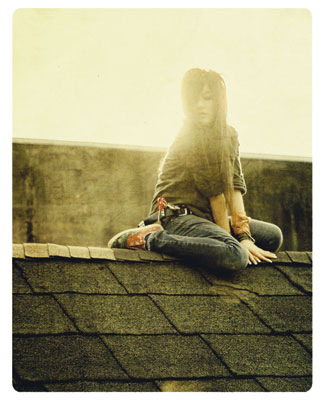 © Hailey J., Lake Oswego, OR