History Class
March 2, 2011
She's sitting there busily writing while I watch her pen move swiftly across her paper.
She's writing passionately about something.
Her pen now has a mind of its own.
She glances away from her paper and almost swiftly into my eyes.
She's writing.
She won't stop.
For all I know she could be the next best J.K Rowling.
I glance away for no longer than a moment and she's gone.
I look down discouraged and baffled and there's a note on my desk.
And it's a letter from her to me.
A picture then a poem;

"Your big blue eyes

That looks like the moon on a starry night.


Your soft brown hair
That reminds me of my dad's.

Your big outrageous smile that's as bright as a new penny.

And I know you are for me and that nothing and no one can get in my way.

Everything reminds me of you; the sky, the color blue, and especially the pen I found that's yours but I never gave back because I was too shy to give it to you.

Everything!

p.s. I love you……."
Wow, a lot happens in History class!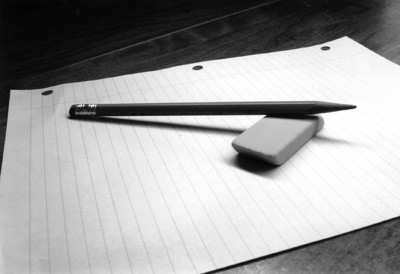 © Michael H., Mildford, CT