Ten Years Ago
February 23, 2011
Ten years ago seems so far away,
A lifetime, in fact, for some.
It was ten years ago that we met, the whole set of us,
That was when the roots for budding friendships took hold.
It was simple then, the making friends.
Nobody cared what brand you wore, or how expensive your shoes were.
But that was ten years ago.

Eight years ago isn't so distant,
But it's still disappearing further every day.
It was eight years ago that we started "real" school,
When we finally entered a grade instead of a "k".
It wasn't much harder then, though drama began its rule,
The petty arguments lasted only an hour, some maybe even a day.
But that was eight years ago.

Six years ago seems so close, yet it's still so far.
That was the year when we started to really grow up.
It was six years ago that we all took on our roles as "big kids";
We were finally allowed on the other side of the playground.
This was when the verbal weapons became known, and were put to use.
I wasn't the only one to walk away with an emotional scar marring my memory.
But that was six years ago.

Four years ago... wow what a wonderful year.
We had the same teacher from first grade, though things had changed since then.
It was four years ago that we got our first taste of responsibility,
We finally got to have a real job in the building.
Those months were some of the best because they were the last of innocence,
But that was four years ago.

Two years ago, it was our first school year apart.
I remember the first day, I called some of you, and we talked for at least an hour.
It was two years ago when those old roots slowly began to rot away,
We all drifted farther apart, never to hear or see one another again.
It was when I lost touch with those who had grown up with me,
And it was then that I began truly growing up for the first time in my life.
But that was two years ago.

So now here we are, living our lives without the "forevers" we'd promised.
We're finally beginning to see our futures, and to make decisions for them.
It's now that we should cling onto old friendships, though new ones are made.
We need the talks of "do you remember" and "when we were little" to help keep us grounded,
And I know I'm in need of a memory-refresh all the time.
But I understand that you all are trying to move on, though we used to be a group of siblings.
But that was ten years ago,
Ten years of growing up gone by to only bring us apart.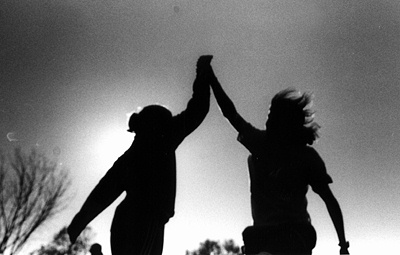 © April P., Marblehead, MA