Fight the Addiction
February 28, 2011
Your eyes are closed,
You lie in a shallow grave,
The confines of your bed.
Can't you hear me?
You're so damn still.
The needle's strewn out,
Stabbing at your pillow.
The lighter and the spoon
Lay on the bedside table.
What have you done?
You swore that you wouldn't go back.
Swore that you would stop.
But you lied to me.
You lied to yourself.
Don't you see?
The silvery white web that dances
Around you?
Around me?
Around the life you built.
Broken hearted?
Empty souled?
You chose this life of pain.
Simply to feel something.
Stop.
You can feel happiness.
Every night,
I watch you stab yourself with them,
Force yourself to add a little more.
I see you slowly begin to forget,
The painful memories.
Along with the smiles.
Our days of torture.
Our days of childhood.
I understand he hurt you.
He hurt me too.
But why do you have to abandon me?
Leave me here?
Drowning in my past.
And yours.
In case someday you want to remember.

Stop running!
You can't be a coward!
You were always there for me!
And now,
You're gone...
Why?
You used to be my hero...
Now you're my burden.
I love you,
But,
I hate you too...
For leaving me behind,
To lie in the mess you forced me into.
Please!
Come back!
Please...
I don't beg often,
Please...
Come home to me...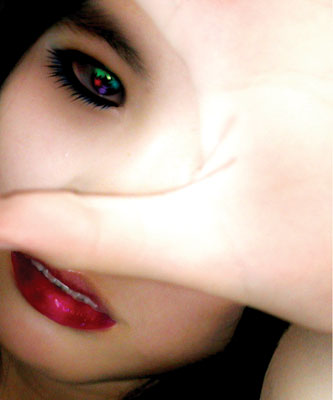 © Victoria W., Arcadia, CA