luminosity
February 27, 2011
I only remember one day from when I was four years old
It was a gorgeous summer night
One of those humid ones where even though the sun has slipped far under the earth
The heat still remains from the sweltering day
As if it had clung to the air we inhaled
Friends and I ran in the yard while parents mingled with one another
Our hair flew in our faces as we struggled to keep it out of our eyes
We played tag
We played hide and go seek
We played ghost in the graveyard
We played all of those classic children games
On that classic summer night
Dirt lined our hands and knees
The humid night grew colder and our legs began to ware out
Our bellies full from smores and chocolate
And sore from giggling
Our eyes began to tire and they closed involuntarily
Suddenly: a light
Many lights all around us
Dozens.
Flickering on and off as they drifted around,
Floated peacefully.
We tried to catch them but they escaped each grasp;
Slipping though our petite fingers
I knew what these were- Fireflies
I had caught them all the time last month
I would coop them up in jars and place them on my night table
They didn't illuminate my room like they do in cartoons,
But they were still compelling to gaze at
Inspect.
Study.
But only for one night, then you had to let them go because they want to be free
They want to fly around with luminosity and live their stunted lives.
If you keep them for more than a day they may die.
And nobody should die like that, not even a bug!
A kid finally caught a firefly. Every kid's eyes were glued to his cupped hands
Examining the glowing creature
He showed it off, let it try to escape, and caught it again.
I felt bad for it. But I didn't want to say anything.
Next he threw it to the ground and stomped on it
He dragged his foot along the driveway
Glow smeared
Shimmering against the heavy moon,
Tears filled my eyes
They overflowed and spilled down onto my cheeks
Why do people think that it is okay to kill?
Okay to kill Even the smallest of things?
And to this very day, I wonder.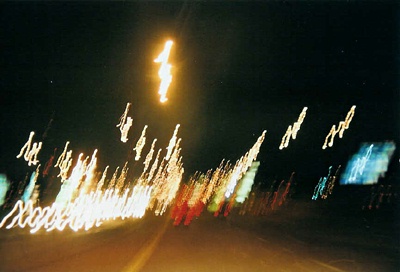 © Matt M., Ponca City, OK