My Little Girl
February 12, 2011
Where's the little girl with curly brown hair all tied up in bows?
The little girl who was always singing and putting on a show, please tell me where did that little girl go?

Now that little girl no longer sings, her beautiful voice is wasted on words that sting,
The cruelty she's been put through, the harshness I've seen,
The world has crushed her heart over and over, how could it be so mean?

Her once innocent eyes and pretty face is hidden beneath a heavy mask,
She tries so hard to be satisfied in the world, but that is an impossible task.

The world says, "You need an extreme makeover." I have to agree,
The cost of the world's makeover, thousands of dollars for plastic surgery,
But the one I talk about is 100% free.

All she has to do is hand her broken heart over once more,
So that every wrong thought and action will be erased, and her heart be restored.

She's hanging on to her past by a thread, afraid to leave it all behind and follow me instead.
Just take my hand, close your eyes, and trust me, go ahead.

Hold still, surrender, don't put up a fight, no peeking, keep your eyes closed tight.
I'm removing all your blemishes and making your heart snowy white,

Ok I'm done; I've forgotten your past and made you pure
Open your eyes, welcome home, my little girl; you're a new creature!
No matter where I may go, you must follow, for life won't be easy, just letting you know.
Now that you're my little girl, I will never let you go!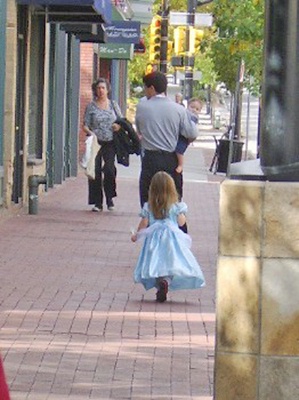 © Kristen T., Tulsa, OK