Powerless
February 22, 2011
The newspaper
Which supposedly makes you smarter everyday
Has an ominous stink of filthy grease
Breaking news gives an image of useless meat
With a belly curved like a sad Earth
It's me
But I just stand there.

The oils spills out its venom
Sizzling
Shushing the baby veggies to be quiet
As if they are being placed in gas chambers
By the Nazis
But I just stand there.

The grinder is the guillotine
Showing its shiny teeth
The baby veggies are trapped
Have no way to escape
But I just stand there.

The sour shock of cranberry
Is an alarm clock
Wanting to wake me up from a deep sleep
I don't follow Sleeping Beauty
But I also betray the automatic robot
Asking me to always clean my plate
I take a tiny step
And fall down
But I get back up again
And am caught by the robot.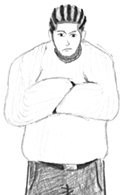 © Ryan W., Philadelphia, PA