Rain
MAG
February 10, 2011
Rain, why do you pound the ground
so loudly?
Are you knocking so that it opens up
and lets you in?
So that you can soak the dried roots of
the plants?
If so, why hit my window angrily?
I'm not going to open it for fear of you.
I am not the reason that you have been trapped in your cloud-cage for so long.
Yet you tap fiercely on the roof.
Your sister, the wind, is pushing you
harder against this earth.
Where have you been?
Have you traveled the world?
Seen the deepest black bottom of
the ocean?
Caressed the smooth scales of a
murky-green crocodile?
Been far below the visible layer of
the earth?
Been lapped up by a majestic, flame-­colored bird that once soared the skies?
Frozen in a glacier older than time itself?
Flown through the sparkling black space
in a comet?
Why have you seen all this and yet still
do not know the reason that you travel
this endless circle?
Does anyone know?
Do not look to me for the answer.
I watch you as you fall and hit the shallow pools on the ground.
You do not know that I observe.
You have seen everything, yet you
know nothing.
This is the reason for your anger.
Rain, this is why you pound the ground
so angrily.
Are you listening to me as I listen to you?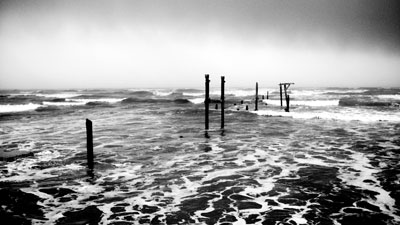 © Harrison L., Ruston, LA