Real Life Fairy Tale
January 27, 2011
Just the other day I was thinking about my future and all that I wanted for my life.
I thought about how I wanted to live what I wanted to do, if I wanted to get married, and if so how many kids I wanted to have. (so far I've narrowed it down to three, two boys and a girl)
But I never really sat down and thought about my future husband and the qualities I would like to look for in a man.
Well I guess I want somebody who is not afraid to tell me that he loves me.
A man who is strong in his faith in God and passionate about the Lord.
Someone who will be there no matter what and give me everything I need.
I pray for an honest man who supports me and all that I do.
And on rainy afternoons, I want him to hold me as we lay on our couch and listen to the rain we'll talk for hours about our goals and dreams and everything that makes us tick.
I want who Looks at me with eyes of compassion so it wont matter what I look like any day of the week because every time we see each other he will look at me like it's the first time we've met.
I want him to tell me that I'm beautiful when I feel insecure.
I want everyday to be like it is our last and well never see each other again.
And every time we kiss we will both be able to feel the impact of how much we love each other because the passion that we put in each one will be so powerful that it will leave us speechless and we won't have to say a thing.
And no hateful words will be expressed because we will both know that time is too precious to fight over little things.
Our love will only get better with age. He will be like my best friend that I can come to for anything.
He will be my rock that holds our family together.
We will grow together each year better and better learning each others strengths and weaknesses so we will know how to cater to one another.
I need a family man who loves his children more than air to the point where he is willing to make sacrifices for them and stop everything to give them what they need.
I'm not the shallow type so I'm not too picky on looks.
I just want a man who has a pure spirit and when I look into his eyes I'll be able to know his heart.
I want a man who's genuine in all that he does.
I want people to feel the love we have for each other whenever we walk into a room to the point where they'll say... man I want what they have...
I want him to be able to make the worst situation something that shouldn't even faze us because we will both understand life is never the way we plan.
I need someone who can make me laugh by just being himself.
Some people may say that these are nice dreams but when it comes down to it you may not find him.
Like I'll be lucky to get a half way decent man in the future.
But you know if I say it now as a young woman, I'll find my true love because I will know what to look for.
I believe that I will find my happiness and live happily ever after.
Fairy tales can happen in real life if you let them... I will be happy and in the end I will have my angel.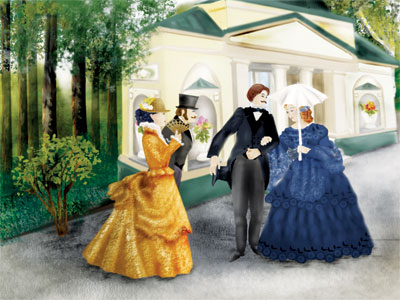 © Tonya G., Donetsk, Ukraine