Love and Heartbreak
February 16, 2011
My heart is blurred,
Confused and in chaos,
Constantly breaking,
And being sewn up.
Falling in love,
And trying to let go -
Handing you pieces of my heart
(Whether I want to or not
Is irrelevant).
Can't control how I feel -
Though I try.
Every night, I'm this much
Closer to loving you...
Every morning, I'm broken
Again.
Telling myself to gain control,
While my heart free-falls iteself
Right into your hands.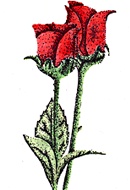 © Sarah M., Phoenix, AZ