September 11
February 14, 2011
The Church bus pulls up,
and I get in,
unaware of everything else,
'till the crash rang out loud.

Pulling up to the church's doors,
Smiling laughing and singing hymns,
We are unaware,
we are all unaware of the horror
'till the crash rang out loud.

It started soft then grew loud,
the choir moaned and cried,
the preacher sat down and cried,
and the crash rang out loud as the towers fell.

All bowed their heads and cried,
the eagle knelt down and bowed crying,
"What have I done to deserve this?"
And God said "Nothing at all."
As the crash rang out loud.

Then out of rubble came,
the heros,
the firefighters,
the police,
all emerged and cried,
"Do not bow down,
stand strong,
be brave,
for we are all Americans today."
as the crask rang out loud

Though it has softened,
it is still there,
the crash that rang out loud.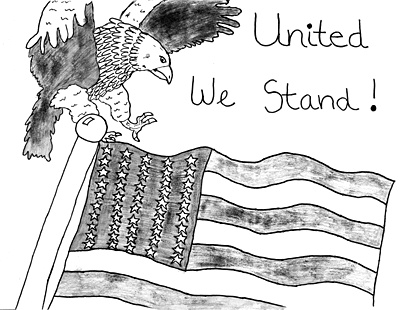 © Danielle B.,New Ulm, MN