As My Coffee Grows Cold
February 13, 2011
Two tables down,
the hot froth from your hazelnut roast
evaporates into the chilly air,
swirling like the exotic tendrils
of a gilded Arabian god
summoning rain.

I pause mid-swallow, and glance upward
with a loneliness only you can feel.
Hazy midday detachment
drifts your deep eyes
towards mine;
brown meets brown, locked in surprise.

My memories have grown tawny in the absence of attention;
at 1:34 P.M. on a normal day, I would be
sifting through rolls of unprocessed film,
hiding behind my thick-rimmed glasses, and
waiting for the day to slither by without my
interference.

Two years ago, I see myself
sipping Roobius tea,
reveling in its aromatic aftertaste
and wondering,
"Why not coffee?"
Black, like yours.

I flick
through yellowed photographs of that one time
when we took pictures of passersby
with your 35 mm Hasselblad.
Black and white, slightly overexposed,
vintage and sumptuous.

There must be some of us, together.
I look for the glimmer of your dark, dilated pupils
in each curling 7 x 9 print,
but every dull face looks questionably up at me
as if to say,
"See how much you have forgotten?"

The flutter of panicky remorse
draws me back to my
now-empty café bench.
Two tables down,
your chapped hands wrap around the handle of your leathered briefcase,
ready to leave.

For the second time,
I see you disappear into the horizon
without a single look back.
And me, crestfallen with bitter pangs of regret,
too pathetic to even whisper
a word of protest.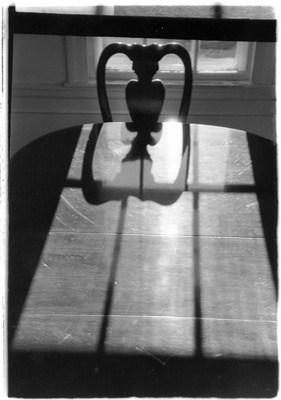 © Ben Q., Marblehead, MA