Satellite Hearts
February 13, 2011
The universe is infinite.
I find you,
blue-eyed jasmine
hiding behind cosmic galaxies
and distant dimensions,
under my tree house.
We look up at Missouri night sky
and beam secretly inside,
as if we are light, like the stars,
who don't even know they're old.
They shiver, dancing in our presence
and lend their luminescence
to our satellite hearts.
Your warm lips and soft fingertips
brush against my hips,
and with the palm of your hand,
you graze the skin on my chin
(oh so gently)
and for a second?
I am blinded by white lights,
the kamikaze rain of your cool arctic touch,
and the burning glow of your influence,
you move me.
I am blinded,
quivering on the precipice of discovery,
teetering delicately at the brink of realization,
marveling at how, in each other
(we escape ourselves)
In you, I leave the gates of my reality
and stumble upon the realm of the far and fantastic,
I am here.
I float back down to join you,
and find that the world has frozen before us.
We lie quietly,
among sparkling dew and lovesick fireflies,
breathe cool August.
Remember being flawless,
tender-sweet seventeen.
We are so young.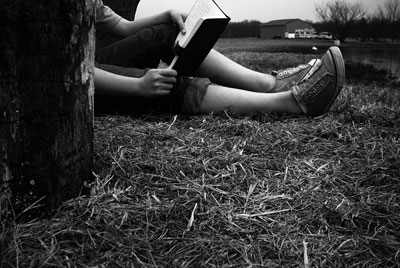 © Kristen D., Kenton, DE