Je t'aime
February 6, 2011
I'm gonna step out on a limb here, and try one more time,
To navigate this mess of mine, over mountains climb.
Because for you, oh, anything is possible now,
And it's true, oh, about this I avow:
I'll mess up, but I'll fess up, and when my stress is up,
You can guess I'll be a mess, but I digress.
I'm tired of speaking in rhymes that I don't even understand,
And repeating stories secondhand,
I want to be able to stand up and tell my story from A to Z.
It's my turn, so let me be,
And it's your choice, if my words you receive.
I could be speaking to a wall,
But at least I am speaking at all.
That's all that I need.
I go back, to that mess of mine, when I first started writing this rhyme,
I go back to that mountain to climb, back to that very first line...
What I am trying to say, if you've read this far,
You've affected my life, whoever you are.
What you mean to me, I can't explain it all through,
So I simplify it to, "Je t'aime beaucoup".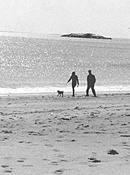 © Megan S., Marblehead, MA