Romio-Juliet Complex
February 14, 2011
Oceanic waves crashed against the shores as the two stood on the rocky peak.
He knew why they were their but his eyes never stole from her just as she,
In all her beauty and reverence, never gave into the guilt,
Which seemed to be the only thing beating her heart any longer.

The past, as horrid and painful as it's always been, was finally coming back to them
Their nights alone, hidden under the stars,
Seen for their fraud while the mornings together in sleepy safety
Dangerous and poisonous like a blood sucking leech attached to the heart.

There was nothing the two fools could do but fall,
Fall in their overdone play, a constant redone of Romeo and Juliet.
Where is the true love, which is filled with danger, fears, pain and tears?
What is this fluff full of hearts and what they thought was love.

Danger, oh how you've yet to become the stranger we all crave
But otherwise dive into the weakened shell of a being and grab their hearts with your bare hands,
Ripping them apart, showing them the true reality of their human stupidity
It's really an art. I must learn, I must follow, I must not fall.

Ah, but here I stand, waiting for the moment when the guilt will take over.
As it is thought, it is done, and so the guilt sets in and soon the waterworks follow.
"Oh how my heart is broken, how it is pulled from my chest and shattered, nay torn!
Torn and cast out to sea!

What life is there here if you shall walk into another's waiting arms.
Oh woe for truth or patience, I have none! No god, no being above grants me grace here
I stand a brittle maid needing but the arms of my mysterious knight
Ay me! You leave, off into the sandy dunes, and I am destroyed."

More importantly, how I wish any of that were true.
Past all lies I've hidden here, I must show truth in defeat.
I stand here, with no tears nor pain, staring him down,
Knowing that as he looks at me he looks at she and all is but…

Oh how I cannot bare to say it!
D***ed heart! Named fluff that tears me in two without emotion,
Can you not be the beast who will tear my heart and leave me without this
Wishing he were gone.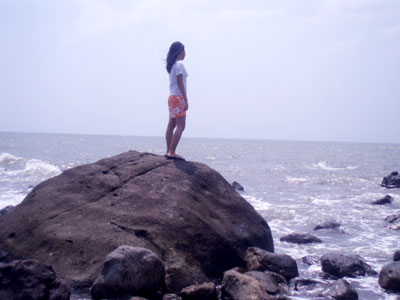 © Grace L., Bacolod City, Philippines