A Fatal Combination
February 2, 2011
As I sit here on this late summer night,
I can't help but overcrowd myself with thoughts.
Thoughts of happiness and sadness.
Thoughts of good and evil.
Thoughts of good times and bad times.
All opposites, all existing in one place together.
Existing in my mind, residing there till I go crazy.
Who am I?
A question in my head pecks at my brain constantly, never letting up for break.
I have no one to lean on for support.
I asked you to help me, but you gave no reply.
Do not try to help now, for the damage is done, the time is up.
No don't cry my dear; for it is not your fault, things were coming to an end for me anyway.
There is nothing you could have done for me.
I am the cause of my own destruction.
My personality, my ways, my rituals, all of these destroying me from the inside out.
The one dear to me is you, and I am glad you did not help me.
If you did you would have observed as I destroyed myself mercilessly.
And now it is finished; my mind and body can take no more.
So my dear if you will excuse me, I must go on now.
Please honor my wish of putting me away with a smile on my face, and relaxing clothes on my body, and boots of the west on my feet.
And also, do not be sad.
For there was nothing you could do to change things to make me glad.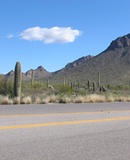 © Aleksandra K., Tucson, AZ