Latched
January 27, 2011
If you bother to look close enough,
small, breakable
love, wedged between the wood boards of park benches.

As you pour your black coffee into your mug,
it is there, getting drenched,
but it can't drown, can only
slowly break.

Love covers your calendar,
pours into the spaces of each date you marked
to go out to Bluebell caf with your strict boss,
or shop for food to fill the table.

Love, on the tip of the colored tacks that you use to
hang precious pictures,
leaps from the tack onto your wall,
immediately scatters onto your rug.

Love hangs onto your lights,
Gazes down at you, studying you thoroughly while
you eat dinner,
or make the bed.

Love nestles in the cracks of your keyboard,
tries to enlighten your writing,
tingle the tips of your fingers to
over blossom with words,
flowers in the spring.

Love opens the crusted gold latch of the window,
jumps out into the breeze, free, to
hitch a ride on the tire of your car.
But it cannot be crushed,
can only slowly break.

Love sits on the tip of the silver moon,
decides what it wants to do next.
Does it want to come to earth again,
to study you longer?
Or maybe it just wants
to stay here, spread its gold winds out,
and make the moon explode with a special kind of
light.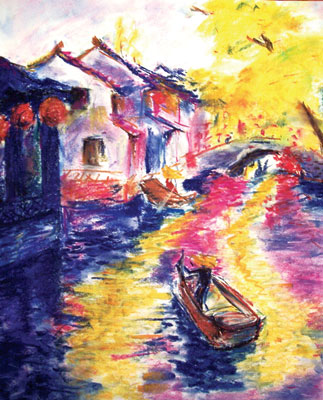 © Xiao H., Naperville, IL