Something New
January 24, 2011
On leaving my room, I wasn't too keen.

but there was a glare on the television screen.
"CLOSE THE CURTAINS" she had said to me.
and so I did, meek and quietly.

There was nothing special about that day.
But instead of leaving, I chose to stay.
She looked at me, and asked me, "What?"
I blinked my eyes, and my mouth stayed shut.

She asked again, her voice was hard.
I sat down beside her, the air was scarred.
She turned away, her silence stinging.
Tension built, and my heart kept flinching.

"What movie did you get?" Came through my lips.
"The Amityville Horror." and she grabbed her chips.
"Can I watch it with you?" Another mistake.
I waited for rejection, and the familiar ache.

She looked at me, surprise in her eyes.
"It's a scary movie, boogeymen and bad guys."
I swallowed the spit that gathered in my throat.
And she turned to the tv, grabbing the remote.

I sat beside her, scared like a kid would be.
But I wanted to be close, like things should really be.
The movie started, and things were going fine.
But soon a chill gathered at the base of my spine.

When the blood splattered, Instinct took hold.
I grabbed onto my mother, frighteningly bold.
And to my awestruck surprise, she held on to me.
Close and loving like a mother should be.

For the rest of the movie, she made me smile and laugh.
so that it wouldn't scare me when bodies were cut in half.
And when it did scare me, it would scare her too.
And we would hold on to the other, a feeling so new.

and by time the expected ending credits rolled by.
Something had changed, the tension untied.
Instead of a stranger that I had come to fear.
She was my mother, and her love was sincere.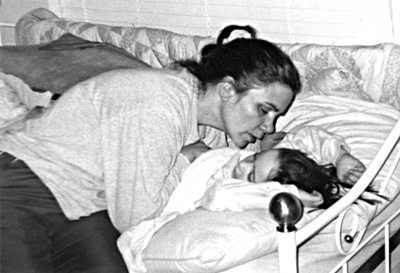 © Jessica T., Highland Village, TX