He Looks
January 20, 2011
Wings spread outward to the moon,
Flight abandoned to the stars,
He looks upward through crystal blue eyes;
Walks along the wide branches of the willow.
Arms outstretched toward the darkened sky,
Feet planted firmly on the horizon,
He looks upward with tears in his eyes;
Sings a melody of forbidden destiny.

What become we now, lost like the day?

Stars swirling upon the dark canvas of night,
Moving to a tuneless hymn and a timeless dance;
He looks toward his own radiant dream,
The void that dances forever, everlasting.
Sorrowful pale beauty the world encompasses,
The earth: Its tears have fallen away;
He looks toward the sky and his brethren,
A part of the beautiful dream that is not this reality.

What am I now, forgotten as a breath of wind?

Mind and mentality have long lost been,
Courage stolen with the imprisonment of outward being;
He looks inward at the decrepit thing that is himself,
Wandering the dream world that he can't escape to inhabit.
In this place of his own make are the doves that fly,
The warriors who sing at the coming of a false dawn,
He looks about himself to envision his serenity,
The place he runs to escape a life that holds no pleasure.

How can life be something without anything?

Grass withers and fades away intinexistentce,
Earth crumbles, blowing away to the far horizon;
He looks around his once magnificent hall,
Toward the fantastic beings that are dying right and left.
Imaginary friends laugh and jeer at his misery,
Fall backward off imaginary cliffs, screaming as he weeps;
He looks around his perfect prison and discovers it uninhabitable:
His beautiful dream has evolved into an unhealthy nightmare.

How do I break free of these walls of hopeless banality?

Stars clatter gently down to the cracked earth,
The world shifts as he steps once more into his true prison;
He looks around at the bright butter-yellow walls,
Determined to escape from the lonely, bitter place.
Day by day the concrete walls are worn away,
And slowly sunlight can be seen through an open door;
He looks outward from it and crows victoriously at the real sky:
Nothing unreal could compare to the life he had now.

What will happen, now that I am freed from my darkness?

Halls are now unchanging and perfect in proportion,
Voices are filled with joy and contentment;
He looks around at the real friends standing around himself,
Who he can't control and who he likes all the more for it.
Sadness is wiped away from his once weary heart,
Insanity is erased from his once twisted soul;
He looks around at the real world and finds his peace:
And knows that he has left his fantasies behind forever.

The end.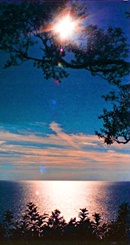 © Crystal B., Gresham, WI