Phases/Bipolar
January 25, 2011
Polka-dotted walls. Colorful. Plentiful.
Books covering the floors. Magical. Fanciful.
Figures standing at attention,
Waiting for something to begin.
Paint and brushes combine to make,
Every color, every shape.
3 AM, 4 AM, 5AM, morn
Papers covering my entire floor
40 projects, 1 night.
Suddenly, I'm filled with fright!
What was that?!
A ghost? A black cat?
Nothing there,
But I see it again!
Coming toward me,
It starts to rain.
I feel the drops. I see them pour,
But they do not soak my floor.
Who is there?
Who gives me a scare?
The raindrops fall to my face,
Now masking my tears,
Masking my fears.
Down my cheek they race
Down, down, down.
Frown, frown, frown.
The back of my eyes,
I see a clown.
Rainbow! rain…
Cheerful! pain…
Blind to the world…
I can't see…
When will I be back where I want to be?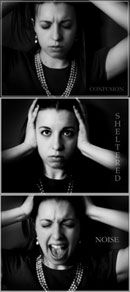 © Michelle B., Blairsville, GA