A Wandering Soul
January 21, 2011
My heart beats steady,
My soul sits still,
She knows my every thought,
Fulfills my every will,

When comparing her to others,
She always fly's above,
Better than the rest,
As pure as a dove,

Is she my true love?
Or do I simply love the idea of her?
Earth begins to unravel,
My thoughts begin to stir,

Imagination starts to shatter,
Reality drifts in,
There is no one girl,
Just a list of guilty sins,

The truth is,
I would trade in every one,
To have a girl to myself,
I could only imagine what it would become.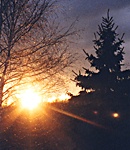 © Christy S., Germantown, NY