Sinuses
December 17, 2010
High pitched whistle
More air and little sounds
Lower and lower
Getting to the point of where only dogs can hear
My cheeks are turning red
My lips are blue.
My mouth is opened wide
Nothing is coming out
My lips are mouthing the words
My mind is flowing with a waterfall of words that I'm saying.
Yet you look at me with a blank face.
I'm getting angry.
I'm talking to you
Still a blank face
I start making frenzied movements with my hands and mouthing the words
Huh? The word is dropped in the air.
I throw my hands into the air and start mentally cursing my fate.
The doctor's say its sinuses
I glare at them angrily scribble down in caps
THEN WHY AM I LOSING MY VOICE????????????????????!!!!!!!!!!!!!!!!!!!!!!!!!!!!!!!!!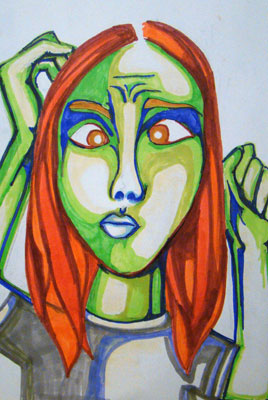 © Michelle L., Syosset, NY