The Fireworker
January 7, 2011
A minimum wage man.
A day bigger than any other.
The overwhelming heat incorporated with
the fire.
As he steps out of his car, he is slapped with
the smell of sulfur and breaks.
He approaches the barrel, while, simultaneously
slipping into the thick, leathery protection
of the singed gloves.

Waiting for the Que.,
he stares blankly at the gleaming stars
in the distance.


. . .

"And, fire!"
says a blurred voice in the extension of the night


Sliding the pyrotechnics into place.
Still fixated on the same luminous star,
when a blow of heat runs through his body,
forcing him upward, to the point of which he must discharge
the fervency inside.

No longer mesmerized by the star, but by
the phenomenal blaze of his silhouette
shattering into slivers of glowing rain
cascading down. Showering everyone below.
Flickering into nothingness,
he is nothing more, or nothing less.
But a

firework.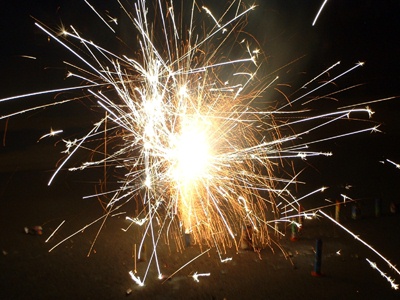 © Kevan B., Beaverton, OR