Nightmarish Madness
January 19, 2011
Something in the Night
is Stirring
Something in your Chest
is Burning.
Slithering.
Smoldering.
Creeping.
Smelling.
Weaving in and out.
Shadow to Shadow.
This Nightmare forms your
Fears.
Never leaving.
Always Wanting.
Thirsting.
"Bold as Brass"
It stands to you.
Challenging.
Relishing a Fight.
A Struggle.
Drooling.
Jeering.
Grinning.
"Malicious Monster!"
Scream.
Charge.
Choke.
Spit.
Laugh with Madness
When the Deed
is done.
Lifeless.
White.
Cold.
Mouth open in a
"soundless scream!"
Sweat and blood dripping
from your Innocent
Hands.
"Triumph!"



A woman lays before you.
Smile dies away.
Hair shinning in moonlight
streams.
Eyes transfixed on you.
"Murderer."
They seem to whisper.
"AHH!"
"What life is this,
taken in vain?
What blinding reason
did I have?
A beauty is dead.
The world weeps
for innocence lost.
For a shadow is cast this
wicked of Nights."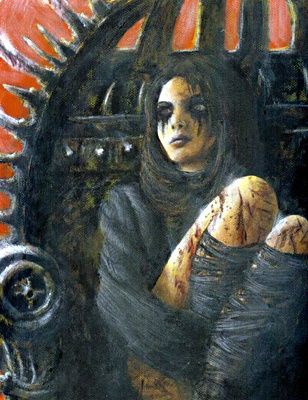 © Veronica N., Kenora, ON, Canada