Hurt, pain, sorrow
January 18, 2011
Hurt, pain, sorrow
is all that I feel
for her is what she gets from me.
She steals other's love
to get no sadness, and pain.
She wants love,
she tries to take mine
she will never succeed
pain, hurt, sorrow
pain is what she feels
no love for her, friends if so
she shows it poorly
she hurts her friends to get what she wants.
I see them leave her,
because they are hurt by her.
Sorrow is what she feels
they, who she took from her friends
hurt her in return.
Her friends will not help her anymore
she hurt them, there is no turning back.
She takes, she hurts
she has pain, and sorrow
in her heart.
She will not break up me and him; we are bound
by a thread of air, fire, water, earth, and spirit.
Unbreakable
she tries and tries
but fells again and again
back fires like bad karma
she hurts me deep down,
sadness, anger, hurt, and betrayal
are what I feel for her, and towards me.
She is going to lose me
to really soon.
She bought it on herself.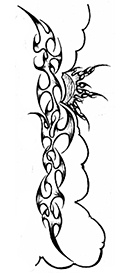 © Alex E., Dededo, Gu