Horses
January 14, 2011
Horses, rodeo, Kentucky Derby, or calming trail rides
Thundering hoof beats
Muscles rippling
Tails waving in the whispering wind like an enchanted fairy tale with a princess.
Nickering to show love
Running to show power and strength
Nuzzling you to show trust
Tossing their heads to show freedom
Smelling fresh hay, sweet oats, and lush grass
Flicking their ears to hear the wind whispering,
Splashing creeks, birds chirping.
They believe, have hope, flying to chase dreams
Horses are enchanted, gentle, a little girl's dream
Walking, trotting, cantering, or sleeping
Galloping into the orange sunset.
"If heartaches were horses and hard times were cattle…"—George Strait
Black, bay, paints, sorrels, dapples, grey, running in the night, free
Soaring over the lush grass
The warmth of their body melting you little by little
Their trusting eyes touching your heart
Morning to night, dawn to dusk, all seasons
Their spirit showing in everything they do.
While galloping all colors blend
Wide open baby blue skies, not a cloud in sight
Foal learning, mare teaching, stallion watching.
At night full moon and stars fill the dark blue sky
Sunlight peeking through the willow tree.
The days begin and the days end
Then it starts all over again.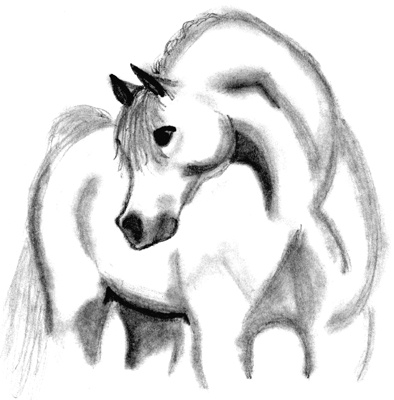 © Sarah G., Esperance, NY