Lonely Lorentz
January 18, 2011
WORK
Janet Lorentz strolled into her dirty beige office building
And plopped down in her comfy black chair as she adjusted her headset
Her fingers moved at 100 miles per hour
Bling! Bling! Bling!
E-mail, e-mail, e-mail!
Her brown hazelnut coffee sat next to her
In a gray cup that says, "I love my coffee"
On a good day she's able to take a few sips, but
Her computer noises keep her awake anyway

EN ROUTE
She quickly hops on the train in her clunky heels
The second Janet glances up, her eyes lock on a baby
With the most beautiful green eyes
Her eyes go from happiness to despair
Janet finds a spot next to a window
She pulls out a magazine and her iPod from her purse
Indistinguishable sounds come out of her mouth-
Maybe a mixture of the words in the magazine and lyrics of U2
The train zips by the trees
Creating a swirl of green, orange, and yellow.

HOME
Janet takes one step into her apartment

Silence

Echo

Stillness
The butter knife and burnt toast still sit next to the toaster.
Janet admires her new
Cranberry-colored kitchen,
Baby blue bathroom,
And soft green empty family room
Janet wilts over the dull-orange bottle
Grabs another tiny pill
And gulps it down with a tall glass of water,
Hoping this new fertility drug will work.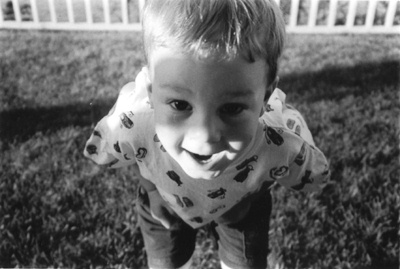 © Jessica M., Marblehead, MA