Together, We Are Undefeatable<3
January 17, 2011
The happiness turned into misery, And that misery turns into sadness..
But nothing can bare the feeling of love that haunts your soul, When there is that angel standing beside you as you daydream on how dreadful it would be without him.. When your depressed everyone tells you that you are the best there is..
As always you wonder who came up with that lie..
All you want to do is smile, and you pray that,
the angel you love oh so much is not faintly hurt..
You wish there could be another way to tell him you love him besides those three words,
That are said too much..
You hope that no one will hurt you two,
And even as life brings its pay, You don't care because you have him to hide behind,
God tells you don't worry everything will be okay,
So fight the fear that comes, together we are invincible.
We are the fastest..
We are quicker,
And we can move without a sound.. So let the unlucky try us but it will be defeated by the Undefeatable...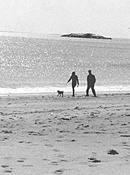 © Megan S., Marblehead, MA