One-0-Seven
January 9, 2011
one-oh-seven ways
in approximately
four-eight-oh
minutes.

/stupid/fat/worthless, i am worthless/ugly/[un]-accepting/
/crude/talent-[less]//hopeless, i am hopeless/boring/insane
/un-[wanted]/lustful/envying, I envy you/cold/derelict/me/

three
little lines
one-oh-seven, oh,
one.oh.seven.
ways
to think it.

Not
counting
my
Negligence.

/why can't I be there?/
/do you even want me there?/

one-oh-three
almost there;
almost
there;
one-oh-three
dark pink scars
raised, long,
shallow, short.
one.oh.three
crimson reminders
of my one-oh-seven
ways.

and those
are only
the ones
You
see.

/why can't I care?/
/why can't you care?/

be it
one-oh-seven
3
or
one.oh.three,

these are all the ways I know to say…
i hate me.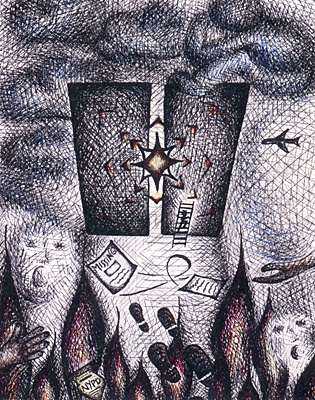 © Erin H., New Hope, MN