Be Still Thy Heart
January 13, 2011
Be still thy heart; be not afraid of the evil instilled
Complexity unparalleled, unyielding desperation to be released from the unforgiving paranormal adversaries whom control people lives.
May Aphrodite fall down dead so I may be free.
Complete unadulterated affection counterbalanced by hostility. Not only his mind, but his voice, smile, receding hairline, his soul, his horrible taste in music, and the unforgettable and unrelinquishing need to eat my ice cream.
Everything makes my blood burn, my heart race, blood pumping abnormally fast through the organ in which he has the key.
My most pleasant dreams he haunts with his beautiful blue eyes. Of all the things I love the most, his eyes would be it.
Emotions unfold to reveal the truth behind the fallacies ensued. His smile makes me smile.
His laugh makes me laugh.
Completely, irrevocably, utterly opposite, yet love I do.
For he has wormed a hole into mine own heart and set up camp to stay.
No, I am not in love, I simply love.
When you love someone, you love them entirely and except all their faults; but when you are in love, you are in love with the idea of the person.
Yes, I love that boy.
Love is said to conquer all, but truth stands high for another line, it takes two to tango.
I may love, but he does not.
Acceptance has already befallen me.
Friendship is more important then chasing dreams in which have no chance of coming true.
I will love him forever and always.
Although my heart is torn and weeping, I will survive—always do.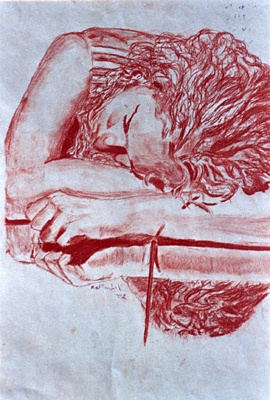 © Mark S., Kannapolis, NC